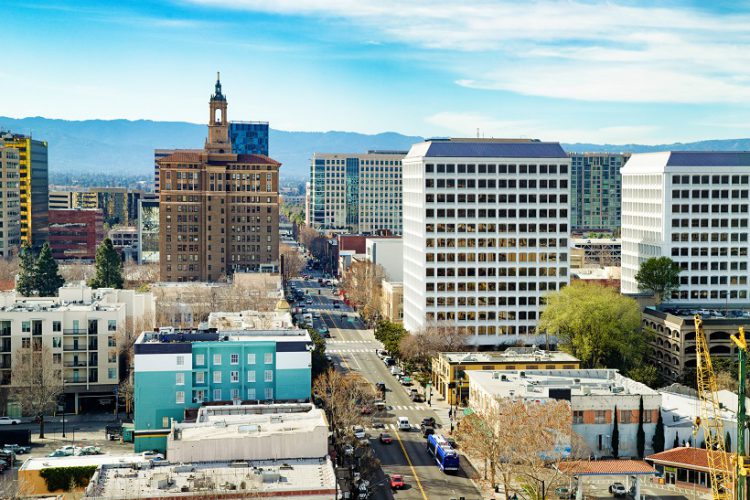 According to a recent article from The Mercury News, the Valley Title property in downtown San Jose is actively being eyed by none other than Gary Dillabough, a developer with several other ongoing projects in the area.  The purchase is expected to be completed by the end of this month.
As the article states, Dillabough is a realty entrepreneur and venture capitalist who is currently in the midst of developing and rehabilitating several high-profile projects throughout downtown San Jose.
Executive director of the San Jose Downtown Association, Scot Knies, was quoted in the article discussing the significance of the Valley Title property's location.  Knies says, "It's a critical location… It's a gateway to the SoFA.  It's a link on San Carlos between the university and the rest of downtown."
Thanks to the layout of the property, and its location at the corner of South First and East San Carlos, the site offers enough room and versatility for a number of uses.
The City's economic development director, Kim Walesh, was also quoted in the article, saying, "You could do high density, mixed uses, pretty much any combination of retail, residential, hotels and offices… A lot could be done on a site of that size."
Given the number of properties throughout downtown San Jose that Dillabough has already begun acquired recently, it comes as no surprise that the developer would be interested in the Valley Title property as well.  In fact, the developer's ongoing work is viewed as one of the top drivers behind the incredible transformation currently taking place downtown.
Some of Dillabough's other ventures include actively upgrading buildings including the Bank of Italy office tower, the Bank of the West building, both historic high rises at the corner of Santa Clara and South First streets, and the Moir building on North First Street, according to the same report, though it's worth reiterating that Dillabough is just one of many developers working to revitalize downtown San Jose.
As Bob Staedler, principal executive with Silicon Valley Synergy, was quoted saying, "The development interest in downtown San Jose is ramping up… A lot of important properties that have been stuck for decades are finally breaking free to new owners who will do something with them.  It's exciting to see what's happening."
(Read the full article on The Mercury News.)
Have You Invested in Your San Jose Property, Too?
At Intempus Builders, we take pride in providing Bay Area clients with the highest quality construction and renovation services. If you're interested in learning about how we can help you remodel or build, please get in touch with our friendly, professional staff today!