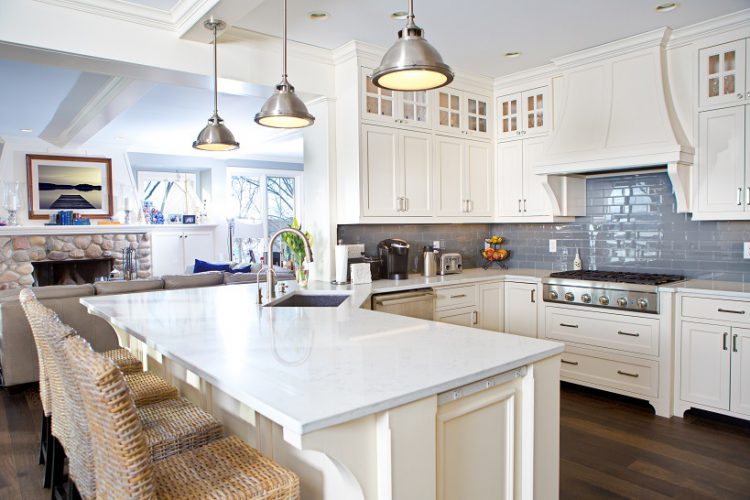 Are you tired of coming home to an outdated kitchen every day?  Maybe you'd like a new paint color, new custom cabinetry, smart kitchen appliances, new flooring, or just a completely new kitchen that fits in with today's latest styles.  Luckily for you, our San Jose construction team is well-versed in creating sleek, stylish kitchens.  In fact, today we're sharing the top kitchen remodeling trends homeowners have been enjoying so far in 2018.
TOP 9 TRENDS TO CONSIDER FOR YOUR 2018 KITCHEN REMODEL:
1. SMART KITCHENS
Home automation is an exciting new trend that's been making its way into every room, including the kitchen!  Thanks to advanced technology, many homeowners are enjoying the ease of controlling their homes all from a single device.  From smart kitchen appliances to smart home systems that allow homeowners to dim the lights, adjust the thermostat, play music, and more, it's finally becoming possible to run your entire home with minimal effort.
2. FLAT PANEL CABINETS
Shaker-style cabinets are becoming a thing of the past as an increasing number of homeowners are instead remodeling their kitchens with sleek, flat panel cabinets.  The clean, simple lines these cabinets boast allow for easier cleaning and add to the decluttered, minimalistic style that's become so highly sought-after this year.
3. WHITE CABINETS
While the white-on-white color scheme may be disappearing from the bathroom, white kitchen cabinets are here to stay!  This trend has been catching on over the past several years, and adds to the overall clean, simplified décor that modern kitchen designs favor.
4. TWO-TONED CABINETS
If you're looking to create a more current look in your kitchen, but not quite ready to commit to white cabinets, two-toned kitchen cabinets are another attractive option that may suit your own taste better.  For this modern style, add some dimension to your kitchen by installing darker-colored cabinets below your countertops, with lighter cabinets above.
5. QUARTZ AND GRANITE COUNTERTOPS
Quartz and granite both have been quite popular over the last few years, and for good reason.  Not only do the neutral tones flatter every color scheme, but both quartz and granite are among some of the most durable yet aesthetically-pleasing materials available for kitchen countertops.
6. INCREASED STORAGE FOR A CLUTTER-FREE KITCHEN
You don't need to be a minimalist to achieve a minimalistic look, especially when it comes to the kitchen.  This year, homeowners are installing extra cabinets, drawers, and storage space in their kitchens to store all of their cooking accessories and small appliances out of the way for a clean, simple  look.  Not only does this added storage space help make the kitchen feel tidier, this new trend is also a great way to get more use out of limited counter space, so you can prepare your meals without feeling cramped by a scattered collection of kitchen gadgets.
7. HARDWOOD FLOORING
When in doubt, hardwood flooring is always a safe choice for any remodel.  Not only do hardwood floors create a gorgeous, sophisticated look, but when installed properly, hardwood floors are quite durable and can even last for decades.
8. CERAMIC TILES
If hardwood flooring isn't your preference or you're looking for flooring that requires less maintenance, ceramic tiles are another well-loved option this year that can give your kitchen the contemporary look you crave.  Thanks to the rising popularity of ceramic tiles, there are now countless different tile designs to choose from in a variety of colors, sizes, and shapes.
9. ISLANDS WITH SEATING, STORAGE SPACE, AND MORE
Kitchen islands have made every homeowner's must-have list over the past several years, and with good reason.  With features like built-in mini fridges, extra drawers and cabinets, and comfortable seating options, an island is the perfect way to get more use out of your kitchen space in 2018.
REMODEL YOUR KITCHEN WITH THE BEST CONSTRUCTION COMPANY IN SAN JOSE
Feeling inspired to remodel your own kitchen this year?  Our experienced San Jose construction team can help you create the kitchen you've been dreaming about.  We have almost 10 years of construction experience and work hard to keep each and every one of our customers fully satisfied.  Whether you're thinking of making a few minor upgrades, or you're ready to redo your entire kitchen, we'll help you create the perfect space to prepare your meals and entertain your loved ones.  For more information about the best construction company in San Jose, please contact our team today!