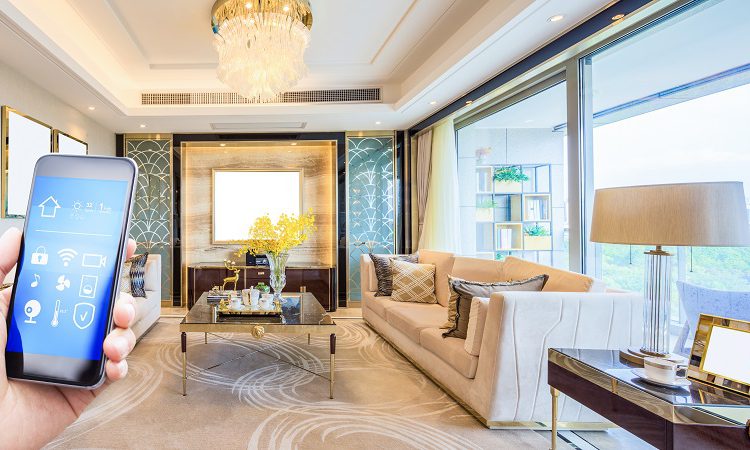 Transform your house into a real-life smart home using one of the best home automation companies in the Bay Area. Intempus Builders provides comprehensive and affordable construction services throughout the South Bay, Peninsula, and East Bay Areas. Our team of experts specialize in Remodeling, Design and Build, and Maintenance services. We are committed to providing top-notch service and creating the most innovative homes of the 21st century. We've recently become an authorized dealer for Control4, which allows us to provide top-quality home automation services during construction or retrofit.
Get a home automation estimate today!
What Is Home Automation?
Do you want to operate at-home devices and appliances from one network with seamless control from any location? Do you want to control lighting, your tv's, HVAC system, Stereo System, Pool Equipment, anything your heart desires?  Well we can help!
Home automation systems have evolved from lighting and simple appliance control to full control of your home from almost any location. Each system is customizable to satisfy personal preferences. You have the power to control how, when, and why devices should react.
What is Control4?
The Control4 software system allows multiple smart devices to work together, delivering powerful and top performing smart home automation. It's much more than just an automation system, it's a technology eco system, which once you have installed you will think how did you ever live without it?
If you are looking for a way to simplify your life and make your home work for you, then home automation through Control4 and Intempus is the way to go.
You can control your features from any location with one touch of a button…
Dim lights
Stream high-resolution music
Turn up the heat
Lock the doors
Arm security system
Access doorbell cameras remotely
Literally, almost anything your heart desires, just ask!
The Control4 systems are suitable for any size home, new or old. The magic of a smart home can deliver brilliant at home experiences for you, your friends, and family to enjoy.
Can I Save Money Using Home Automation?
Home automation can save money. Do you ever leave home with lights or appliances left on continuously using electricity? Home automation allows you to set schedules and preferences to control how the system operates. The freedom to customize systems can provide convenience and huge savings. Control home devices and appliances from almost anywhere with our user-friendly systems.
Can Home Automation Improve Home Safety?
Home automation can improve home safety by delivering alerts of potential hazards while you are away from home. Most systems can provide alerts for surprise water leaks, unexpected access to your home, and more. Settings can be changed at any time from your iPhone, Android device, or other remote control systems.
Live A More Brilliant Life With A Smarter Home
Once you experience the benefits of a smart home, you may wonder how you ever lived without home automation. Make your home more comfortable, secure, and convenient using personalized settings.
Control4 Home Automation / Smart Home provides…
You can select a movie to play, and Control4 will close the blinds, adjust the lights, bring down your projector screen, turn everything on, make popcorn, and even order a pizza!
High-resolution sound quality. Bring your home to life with premium sound offered standard with your Control4 Smart Home. Utilize Deezer, iHeartRADIO, Napster, Pandora, SirusXM, Spotify, TIDAL, Tunein, and more.
Entertainment without boundaries. Transform any space in your home into a smart space delivering limitless entertainment.
User-friendly universal remote. Experience how simple and user-friendly a smart home can with only one remote.
Lighting control with the tap of a button. Enjoy a more efficient and vibrant home with energy efficient lighting features.
Start Small And Dream BIG…
It's simple to get started with home automation installation. Our affordable home automation systems can be installed in almost any space! Start your home automation journey with one living or entertaining space and expand to the entire house when the time is right. You can always add more automation to your home.
Simplify Home Automation Using Intempus Builders
Intempus Builders can simplify home automation by offering one of the best systems, installation, and design services. As a top-rated full-service general contracting company we offer a variety of services:
Interior & Exterior Renovation
Design & Build
Tiling & Painting
Household Repairs & Improvements
Home Automation, Security, & Networking
Intempus Builders is built on lasting relationships established through providing fantastic service and quality. We won't stop working until you are satisfied.
Build your dream home; contact us for an estimate today!